Technical specifications (TS)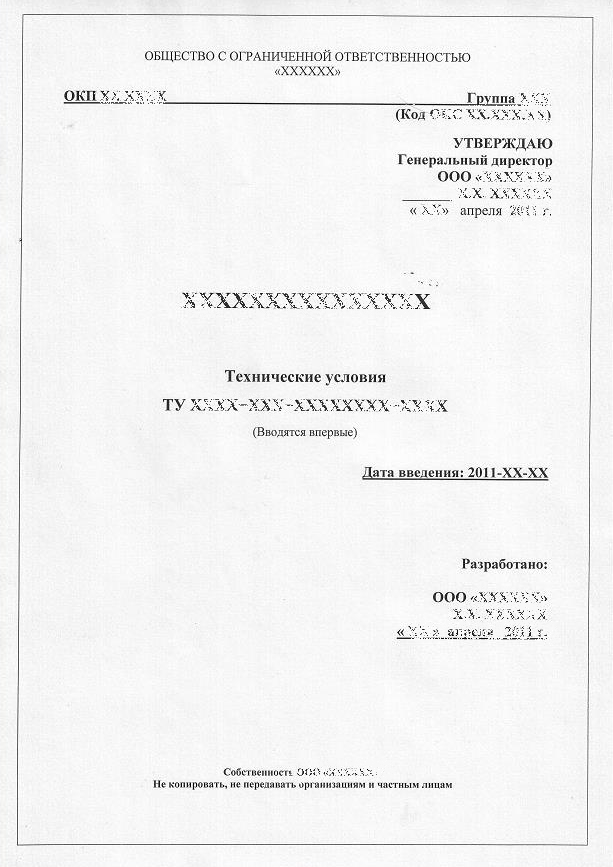 TECHNICAL SPECIFICATIONS (TS)
What kind of document is it?
The technical specifications (TS) are a technical document containing requirements (set of all indicators, norms, rules and regulations) to a product, material, substance, its production, control, acceptance and delivery. TS are a type of the standard of the organization approved by the manufacturer of a product, which is related to the documents of standardization. This standard is an integral part of a set of design or other technical documentation.
TS are developed in general, according to requirements of GOST 2.114-95 "The Uniform System of Design Documentation (USDD). Specifications", and on food products, according to requirements of GOST P 51740-2001 "Specifications for food products. The general requirements to the development and registration" (GOST P 51740-2016 standard came into effect from 1/1/2018).
What organizations give it out?
The technical specifications (TS) are developed by the manufacturer and (or) the contractor and applied, according to the conditions established in contracts.
The registration of TS is an optional (voluntary) procedure. The registration of TS and the catalog sheets of a product (CSP) is carried out by the regional centers of standardization and metrology of Federal Agency for Technical Regulation and Metrology (Rosstandart) in the manufacturer's location. The Federal state unitary enterprise "Russian Scientific and Technological Center of Information on Standardization, Metrology and Assessment of Compliance" (Federal State Unitary Enterprise STANDARTINFORM) and Federal budgetary Institution "The State Regional Center of Standardization, Metrology and Tests in Moscow" (FBU "Rostest Moscow") are engaged in registration of TU in the territory of Moscow and the Moscow region.
TS are a property of the holder of the original document and are subject to purchase and sale; the registration of TS helps to protect the intellectual property rights of the owner of TS.
In what cases do you need it?
TS needs to be developed:
in the absence of state standard of the Russian Federation (GOST P) or the interstate standard (GOST) existing in the Russian Federation, the general specifications for the certain product;
according to state standard of the general specifications, when the manufacturer needs to specify or add requirements to the specific product.
If you have any questions left in regards to this document - call our expert Evgeniy Suhopyatkin:
+7 (926) 906-08-13 or by e-mail: This email address is being protected from spambots. You need JavaScript enabled to view it.